A Mexican Celebration of Life and Death – Dia de los Muertos
Have you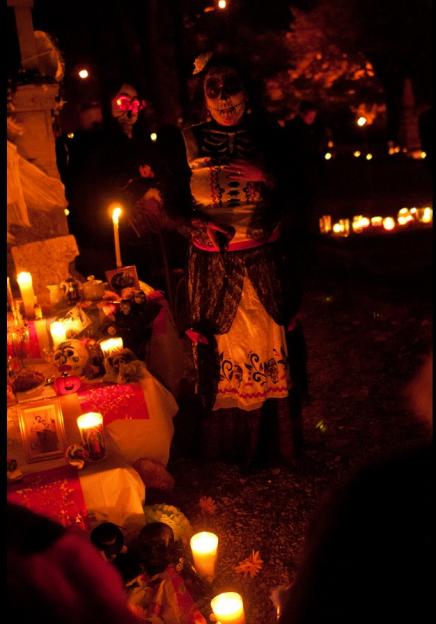 ever wondered what Dia de los Muertos is all about? As part of the Viva Mexico events and activities, all are invited to participate in several opportunities to experience Mexican culture and celebrations.
Learn more about the cultural significance of this day by making plans to attend a slide show that explains the Day of the Dead on Wednesday, October 23, at 5:00 p.m. in the Student Center Theater.
Build a Day of the Dead altar with local artists Jacobo and Janice Aragon on Thursday, October 24 from 3:30 – 5:30 p.m. Anyone interested is invited to meet in Room 122 of the Whitehall Classroom Building to learn more and help create an altar.
On Friday, November 1, The Living Arts and Science Center will be hosting a Day of the Dead Festival. Join the Lexington and UK community at 362 Martin Luther King Boulevard from 5:00 – 9:00 p.m. for this celebration. This is the 6th annual Day of the Dead festival at the Living Arts and Science Center, and will include music, food, art and a candelight walk to the Old Episcopal Burying Ground at dusk.
>>View last year's Day of the Dead celebrations at the Living Arts & Science Center.

Finally, the Bluegrass Youth Ballet is giving a special performance for UK students, faculty and staff as well as the Lexington Latino Community. Join us on Saturday, November 2, at 7:00 p.m. at the Opera House for a very special performance of the Bluegrass Youth Ballet's production, "Dia de los Muertos: A Mexican Celebration of Life and Death." Tickets are available at the Student Center Box Office.
Don't miss out on these exciting events!
Día de los Muertos—Una Celebración Mexicana de la Vida y la Muerte
Como parte del programa ¡Viva M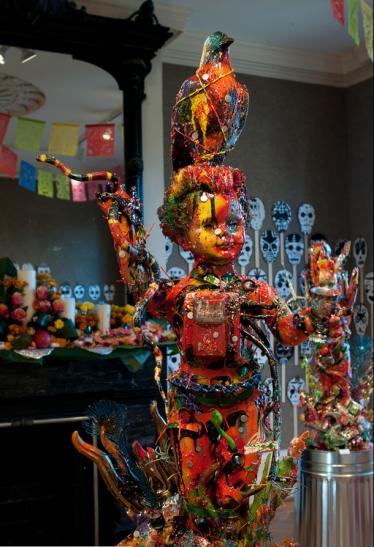 éxico! hemos planeado varios eventos y actividades para que puedas aprender qué es realmente la celebración del Día de los Muertos. Estas actividades están abiertas al público y lo que buscamos es que la comunidad de UK y Lexington se familiarice con la cultura y festividades Mexicanas.
Este miércoles. 23 de octubre, ven al Student Center Theater para aprender más sobre es única y tradicional celebración. A las 5pm habrá un slideshow con información sobre el Día de los Muertos.
Para expandir el conocimiento y para que varios puedan experimentar parte de esta celebración, se ha organizado una taller con artistas locales—Jacobo y Janice Aragon—en el cual se construirá un altar típico del Día de los Muertos. Todos aquellos que quieran participar deben de venir al cuarto 112 de Whitehall Classroom Building el 24 de octubre a las 3:30 de la tarde.
La fecha oficial del Día de los Muertos es el 1ero de noviembre. Para poder celebrarlo de una manera única, el Living Arts  & Sciences Center en Lexington ha organizado un Festival del Día de los Muertos. Este es el 6to festival que se organiza aquí en Lexington y todos están bienvenidos. El festival será en 362 Martin Luther King Boulevard de 5:00 a 9:00 pm; habrá comida, música, bailes y una caminata a luz de candelas hacia el cementerio Old Episcopal Buryinng Ground.
Puedes ver fotos de los previos festivales del Día de los Muertos aquí.
Por último, para terminar esta celebración con un buen pie, el Lexington Opera House estará presentando un Ballet del Día de los Muertos. Este show tomará lugar el sábado 2 de noviembre a las 7:00 pm en el Opera House. Entradas están disponibles en el Student Center Box Office.
¡No te pierdas estos maravillosos eventos!