A&S International Senior Plans to Make a Global Impact
By Jennifer T. Allen
Tiwaladeoluwa Adekunle plans to change the world. Specifically, she plans to help eradicate poverty and fight injustice.
"It's important to me that I'm doing meaningful work that is making a difference in this world," Adekunle said.
Adekunle came to the University of Kentucky from Ghana as a 15-year-old freshman the fall of 2013. This past Sunday she walked across the stage at Rupp Arena and received her degree in international studies and English.
"UK and A&S have been great for me personally because of the support I've experienced here," Adekunle said. "Coming here when I was only 15 could have been really hard, but the faculty I worked with were all so caring. They helped me grow my strengths and empowered me to work on my weak areas."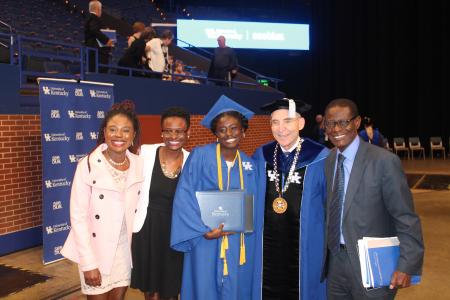 When Adekunle came to Lexington, the only person she knew in town was her sister. To meet people, Adekunle became involved on campus in the African Student Association, International Student Leadership Team, and founded the campus Amnesty International student club. She also became an A&S student ambassador.
"There was a lot of culture shock, but once I got involved on campus and found my way around, I realized that UK belonged to me too, and more than that, it offered endless opportunity for me to develop my passions and interests," she said.
One of those main passions became creative writing, especially poetry. "I mostly write about the complexities of navigating the world as a woman, as an African woman," Adekunle said. "I write also about home and what that means; about the way your identity evolves as you leave places behind and find new ones."
Adekunle's poetry has been recognized with the Flo Gault Student Poetry Prize, a statewide award, and the UK Farquhar Award for Poetry.  She has also won the Hollins University Literary Festival poetry competition and an Oswald Award for Research and Creativity.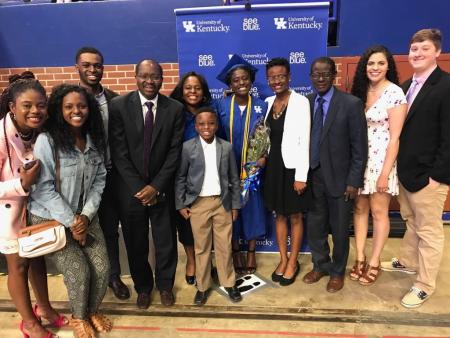 "Dr. Julia Johnson, one of my creative writing professors, has been so supportive, not just of my creative writing, but also of my interest in international studies and what I hope to do with my career," Adekunle said. "She has pointed me towards various opportunities and most of what I have accomplished in my creative writing has been through her guidance."
As she prepared to give the commencement speech at the graduation ceremony May 7, Adekunle reflected on how her time at UK and in A&S prepared her for life's next step.
"A&S has given me the confidence I need to approach my future because it has given me not only the knowledge and skills I need, but also the boldness that comes with  knowing  that I have the support of an entire community rooting for me and wanting me to succeed," she said. "It is empowering to know I am always going to be part of the UK family and that I am well-prepared to take on my next step in the world."
Adekunle's next step is attending Purdue University to earn her master's degree in communications. "My studies at UK have enhanced my critical thinking skills. I'm better at analyzing issues, and I'm a lot more creative in my approach to solving problems." she said. "I hope that studying communications now, will help make me a well-rounded candidate for jobs in global development."
In five years, Adekunle hopes that she is closer to helping make the world a better place.
"I've always been very passionate about global development," she said. "I want to do work that helps marginalized populations and impoverished people around the world."
View Tiwaladeoluwa Adekunle's commencement speech here. 
mother tongue by Tiwaladeoluwa Adekunle
i can't say mother tongue in my mother tongue
mother tongue, i hope you taste the fear
that soaks my tongue when I search
for a word and it eludes me
when I look and you are not
behind me
fear, because if i lose you
in what language
shall i call you back
mother tongue, know
that when i break, truly break, i
break into you, your heavy chords teaching
my mouth carefulness
and how can i not be careful when
the world   aye   can become space   aaye
in one wrong turn of my tongue?
when i was a child
mother said i will speak to you in Yoruba but you must
respond in english
mother let me dance but not sing
mother was preparing me for the world
we are enough mother says, but no one else agrees
i write this in english, but you are always here
when i speak they say sorry, again, pardon,
 my words wear the wind from home like perfume
too strong to hide, so they will always know
i am not theirs
soul song, trunk
if i lose you i will find you
 if you run
i will run too