Emily Beaulieu Named A&S Director of International Studies
By Nate Harling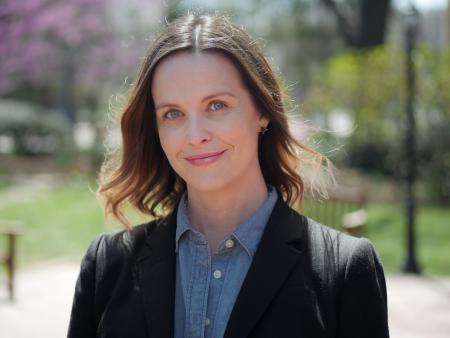 Mark Kornbluh, dean of the University of Kentucky College of Arts & Sciences, has named Emily Beaulieu the new Director of International Studies. Beaulieu, an associate professor of comparative politics in the Department of Political Science, has spent 12 years teaching and conducting research at UK.
Beaulieu obtained a bachelor's degree in International Studies and French from the University of Washington, and her master's and doctoral degrees in political science from the University of California, San Diego. She has published a number of works relating to international politics, including, "Electoral Protest and Democracy in the Developing World," for which she constructed an original data set of election-related protest and reform throughout the developing world for a 31 year period.
"I love the idea, as director of International Studies, of getting to follow the progress of my students as they explore all that the program has to offer and go on to do great things in the world," Beaulieu said.
In her new position, Beaulieu will oversee the progression of her students as well as many aspects of the academic program. As such, she has many goals for the program. 
"I want to enhance programming for the major, largely by connecting students to all the exciting opportunities our campus community has to offer," she said. "The beauty of an interdisciplinary major is that nearly every day some center or department on campus is hosting an event that is going to be relevant for at least some of our students' interests. I want to increase student exposure and access to these events, as well as offer more original programming related to internship and career opportunities, and experiences abroad."
Beaulieu's goals for the program do not just pertain to the curriculum, but also to who will benefit from it.
"I want to increase the number of students from under-represented groups in the major. Because of its emphasis on international experiences, this is a major that often feels out of reach or impractical for non-traditional students, or first-generation students, for example. I want to work to convince students that the world is open to them regardless of their background," she said.